Air conditioning cleaning is a regular chore ignored by many. Keeping the air conditioner clean will not only help in maintaining the performance of the machine but also save the air conditioner from succumbing to regular breakdowns. Thankfully cleaning has become a much easier option these days with help from air conditioning cleaning services. If you are living in Melbourne you can choose to be served by a local air conditioning cleaning in Melbourne. Air condition cleaning is a routine task done by professional cleaners.
Cleaning duration
you might want to know is how frequently should you have your air conditioner cleaned? The Melbourne company suggests cleaning the air conditioner is related to the operation time. If the air conditioner runs for a long time, then it is likely to attract dust particles in the filter which block the free passage of air dust compromising on the quality of cooling indoors. Therefore, while maintaining an air conditioner, you must ensure that the filters are cleaned regularly.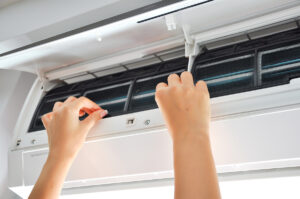 If you do not clean the filters regularly what happens?
When the air conditioner is being used regularly in peak summers, cleaning filters every few weeks will improve the air quality and transit indoors. Dust particles tend to get accumulated on the filter pores compromising the efficiency of the system. This dust build-up over time is a nasty blockage to purified clean cool air indoors and also is a huge impediment on power bills. The dust accumulation within the air conditioner is an ideal bed for molds and allergens two flow out the philtres which in the home environs causing health hazards and sickness.
Can you clean the air conditioner filter yourself?
The air conditioner filter cleaning can be managed by the homeowner however it is a regular task that needs to be followed with consistency and involves hard work. Also remembering where the parts have been removed and rearranging them post cleaning with proper drying demands some level of technical expertise. If you are not a person belonging to such a background and also not given to routine, then hiring a professional expert will help you in getting the work done without any hassles regularly. Often there is a need for parts replacement in the conditioner, a professional air conditioning service will help you deal with that problem. Therefore, relying on our professional service is a much better option than trying out cleaning the air conditioning system yourself.
How does Air Conditioning Cleaning in Melbourne service Ductmates help?
While there is no doubt that regular air conditioning cleaning is the only way to ensure the maintenance of your air conditioner, it is equally important to understand that there are many companies online claiming to be experts In the field. Finding a trusted company that takes care of your air conditioning cleaning is highly desirable. Connect with Ductmates the most professional air conditioner cleaners. Visit https://ductmates.com.au/ for an appointment.