The indoor air is important to our health and therefore it is important to clean it. The air ducts get clogged with dust mold and other microorganisms that either get collected from the house or outdoor dust. The air that circulates through these undesirable elements within the duct is carried outside and the members of the house breathe this unclean air. Houses whose inhabitants have allergies or regular cold and cough should necessarily get their ducts cleaned from microbes.  You can get in touch with Ductmates your most trusted local duct cleaning company in Melbourne.
How frequently should you clean ducts?
Ductmates advocates that the air duct system should be cleaned after every 2-3 years and that would maintain the health of the air quality that you breathe indoors. However, several factors influence this period. The presence of pet at homes, if you smoke indoors, or if you have undertaken a recent construction, renovation or painting, your duct system is at high risk and requires immediate cleaning. Construction involves breaking old structures resulting in debris that include cement and sand. Sawdust from woodwork renovation, and old paint dust that was removed before new paint was applied, would be all over your air duct system.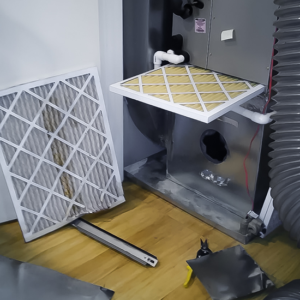 How is the cleaning done?
How does Ductmate help in maintaining the air quality indoors? Ductmates use an HVAC system that takes an average of 3-4 hours to clean the air duct. The time is solely dependent on the air duct size.  No matter how much time it takes Ductmates feel that it is essential to devote as much time as needed to the cleaning process, to ensure that there is nothing undesirable still lingering inside the air duct system.
What makes Ductmates special?
Ductmates have 9 years' experience in the business of duct cleaning across Melbourne and can handle the most difficult duct cleaning tasks. They use the latest technology in duct cleaning to ensure that their results are spotless and free from dust even in the most difficult regions inside the duct.
How does Ductmates keep customers safe?
In the COVID-19 times, you can safely rely on Ductmates. The field technician observes social distancing while providing service in the customer's premises. They use electronic and digital bills to maintain complete distance, they complete the work within the scheduled time defined by them. They come in their PPE to protect the residents from any contamination, they are extremely accountable and use disinfected tools to ensure that the houses they work in remain safe from external contaminants as well.
Conclusion 
Ductmates is that duct cleaning service which is extremely transparent about their very reasonable cost. There is no question of any hidden cost. Payments can be made by both cheques and credit cards. Contact www.ductmates.com.au for the best duct cleaning results.